Introduction
Sprintly has best in market integration with GitHub. Our integrations include:
Support for manipulating tickets from commit messages.
The ability to comment on tickets from commit messages.
Integration with GitHub's pull request feature.
Syncing ticket status with commit status via GitHub's commit status API.
Setting up the Sprintly GitHub Service
1. First you will need to grab your API key from your profile page. You can get to your profile page from the profile menu next to your avatar in the upper right of the header.
Next you'll want to grab your API key from your profile page.

2. Now that you have your API key you will need to log into GitHub and select the correct repository which is located on the right side of the screen.
Once you have the correct repo selected goto the settings page from the menu on the right.
NOTE
: We currently support multiple GitHub repos sending events to a single Sprintly product.
3. Next select Webhooks & Services from the menu on the left.
4. Under the Services section click the Add service button and then select Sprintly from the list.


5. Enter your email address, API key, and your product's ID into the form. Note: Your product's ID is the number in the URL of Sprintly: https://sprint.ly/product/1234/#!/activity/ 
IMPORTANT
The email address must be the same address that you use to login to Sprintly. If you have a different email address that you use for Github and Sprintly, then you must have it added to GitHub as an alternate. You can do this by logging into GitHub and clicking on your avatar on the top right, and selecting "Settings".
Under Settings, click on "emails" in the left menu. Enter in the email that you use to log into Sprintly with here. It does not need to be set as the "Primary" Github email.   
Also, while in the email section of your GitHub settings you need to make sure the 'Keep my email address private" checkbox is UNCHECKED. 
Authorizing Sprintly via OAuth
6. In addition to enabling our service, you can enable us to push ticket statuses to commits via the GitHub commit status API. To enable this service, go to your Services page in Sprintly and click on the "Link GitHub" button.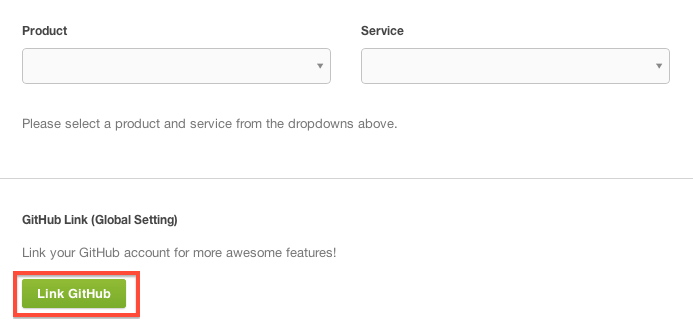 7. Once you have successfully authorized us on GitHub's website you should see the confirmation message "Sprintly and GitHub are linked." You can click the "Unlink GitHub" button to unlink Sprintly from GitHub.